By Dr Len Dauphinee, HomeGrid Forum President
Representatives from leading industry organisations attended HomeGrid Forum's recent G.hn seminar, which was part of the wider Shanghai Smart Home Technology event (5-7 September), China's premier smart home conference, specialising in technology.
Representatives from China Telecom Shanghai Corporation, Sigma Designs, Huawei, Xingtera, Allion Labs, and MaxLinear attended the HomeGrid Forum seminar and contributed to conversations around the future of G.hn and smart connectivity around the world.
One key message resonated throughout the seminar: G.hn has all the features required of a smart home connectivity solution of the future, including being interoperable, secure and future-proof, and is ready and available now.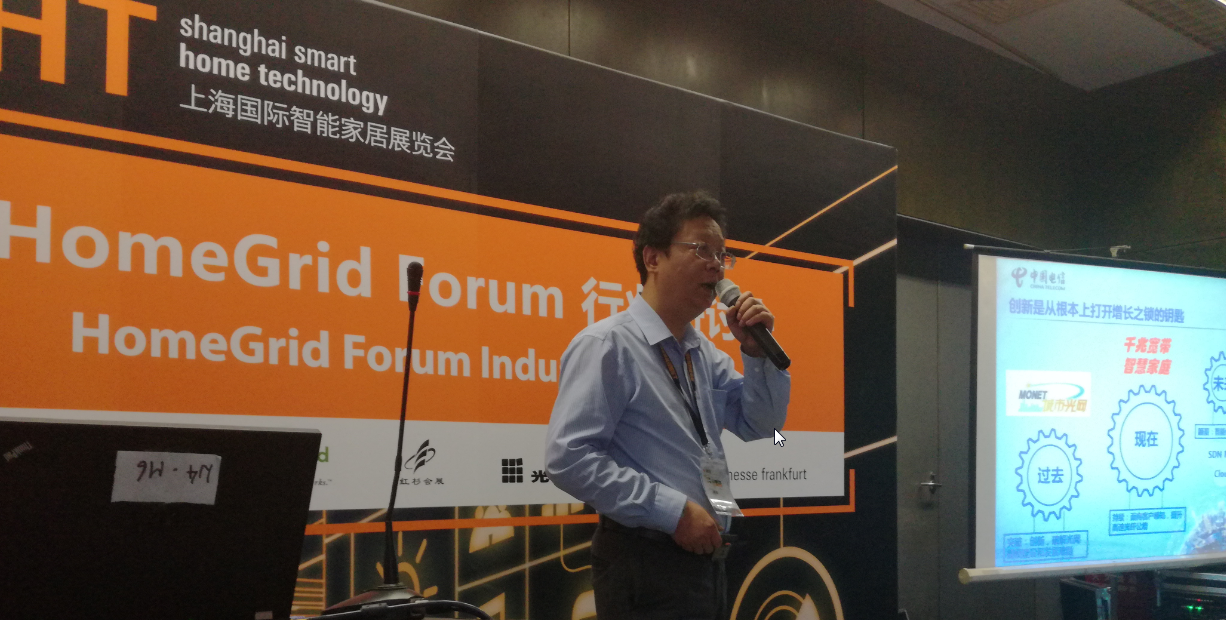 Mr. Zhang Jun of China Telecom Shanghai Corporation (pictured above) kicked off the seminar with a presentation on what commercial deployments of G.hn, by carriers in China, mean for the rest of the APAC region. He discussed the news that China Telecom Shanghai Corporation plans to complete its symmetrical Gigabit PON access technology coverage in Shanghai and explained the need for Gigabit Ethernet access has resulted from the demand for high definition video applications.
He continued by saying that G.hn technology is an essential compliment to PON technology and has been standardized and procured within the China Telecom Shanghai Corporation system, which is being promoted to their customers so they may enjoy Gigabit Ethernet services anywhere in the home.
The focus then shifted to address the evolution of Smart Home networking and the rise of home mesh. Yuqing Niu, CEO of Xingtera, and HomeGrid Forum Marketing Working Group Chair for Asia (pictured above speaking), moderated a panel discussion on how home mesh is gaining momentum in Asia, North America and Europe.
Ms. Niu explained there is a great deal of legacy infrastructure around the world with the potential to be refreshed and reinvigorated through G.hn, which can create a true hybrid network over any wire, anywhere.
Also on the panel with Ms. Niu was Zowee's Ms. Chen Wei (pictured far right) who discussed a series of G.hn devices developed by Zowee for the G.hn market, which Zowee believes is going to boom imminently.
Commenting on G.hn, Mr. Damon Cheng, China Business Develop Manager & Sales Manager of Sigma Designs, said that in the last three years, G.hn has been used in MSOs, mine safety, store management, and the surveillance market. It has been recognized as the most reliable technology for service providers all over the world and will lead wire connectivity technology in the future. Wi-Fi has proved that it is not reliable as the backbone network – wire is the only choice.
He continued by explaining that Sigma Designs is committed to; providing high reliability and coverage to fit different fields' requirements, cooperating with other HGF members to improve the technology, and developing the business model with service providers by sharing successful experiences and technology with its partners now and in the future.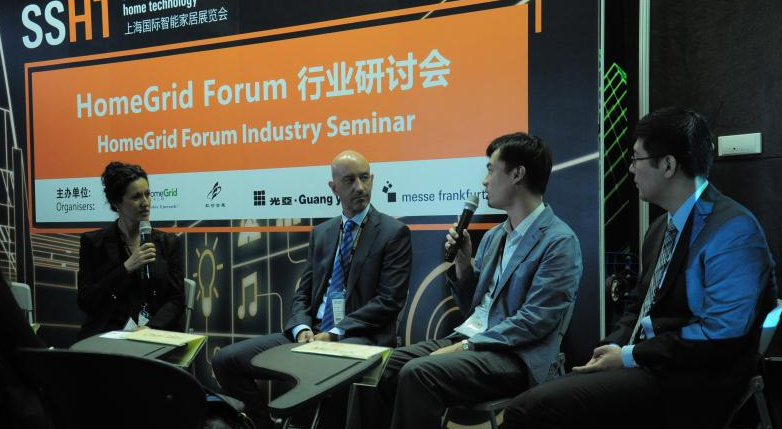 Ms. Livia Rosu, HomeGrid Forum Marketing Working Group Chair (featured in the image above) also moderated a session, which discussed the importance of interoperability and security in the Smart Home digital network, as key requirements from service providers globally.
Mr. Mark Lai, President of Allion China highlighted the role of certification and industry bodies to ensure consumer protection and that performance standards are met. The HomeGrid Forum G.hn Certification program involves a strict compliance and interoperability testing program to ensure the fastest, simplest, and most secure means to connect the rising number of devices being installed by consumers on the home network.
Huawei's Mr. Fan Zhiqiang made it clear that Huawei will continue to invest in the home networking market and participate in the research and promotion of G.hn standards as G.hn technology complements and enhances Wi-Fi for future home networking.
To find out more about the HomeGrid Forum, I will be speaking on 'Home Mesh: The Next Step in Home Networking' at the IoT West, Denver, Co., on 5 October 2017.