By Tom Starr, HomeGrid Forum Member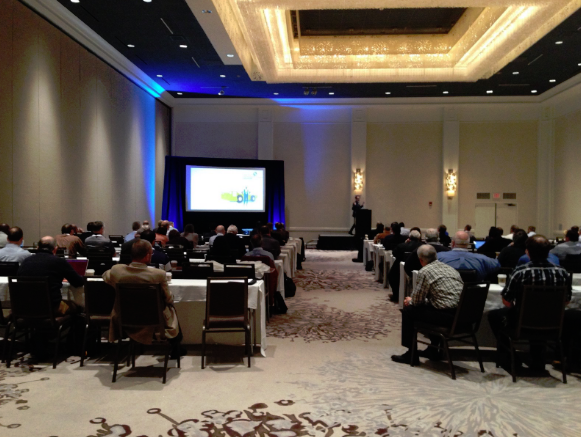 Day one of the Internet of Things North America (image courtesy of @IoTShow)
At the end of March, I took the opportunity to represent the HomeGrid Forum at the Internet of Things North America, (co-located with Connected Cities USA), in Chicago.
I spoke on the issue of backbones and infrastructure, which is becoming increasingly important as the IoT becomes mainstream. However, with the full potential of the IoT beginning to be realized, there is not necessarily the same level of open mainstream discussion around the required infrastructure to support it.
Broadband carriers are increasingly aiming to provide ultra-broadband services, with Gigabit speeds to the home, which is essential to SmartHome networking. In turn, consumers expect wireless connectivity in every corner of the home, whether for gaming, downloads, streaming, or any number of bandwidth-demanding applications. But are in-home networks able to keep pace?
G.hn is a multi-medium wired solution and the backbone to our future infrastructure needs. It provides a single service delivery platform for a user's digital lifestyle, entertainment and workspace needs across any wire, simply and reliably.
It can extend Wi-Fi coverage and performance throughout homes, businesses, and MDU's, which can support the ultimate in-home broadband experience. In addition to this, G.hn can reliably provide seamless wired connectivity via the home's existing infrastructure; over powerline, coax, phoneline, or Passive Optical Fiber (POF) with the lowest latency. Working across multiple electrical panels and AFCI in consumer homes is a huge advantage of G.hn because it is not affected by legacy power line technology, like its counterparts. It can become the backbone for any wireless access point and be placed where it can best meet the consumer's needs.
The IoT needs a reliable infrastructure and backbone when you consider the typical connected home today, which consists of broadband routers, CCTV, laptops, smart TVs, smart phones, and gaming devices. Many homes now have smart home technology such as an app to control the thermostat remotely. These applications require reliable connectivity that is secure, is high-performance and can overcome issues of interference. G.hn does all of this and extends connectivity further than any other technology on the market.
People ask what makes G.hn the secure option compared to legacy powerline solutions, and the answer is this: G.hn over powerline is a secure means to provide the aggregated SSID passwords in a per link encryption network back to the router instead of legacy powerline solutions, where having it exposed on a multiple array of Wi-Fi hotspots can lead to one hotspot compromising everything.
The future needs of both carriers and consumers can be fulfilled through the medium of G.hn, which is why it is the ideal backbone to the IoT.
If you'd like to know more about G.hn, we'll be speaking at SMAhome Expo 2017 in Taiwan (Thursday 12 April @ 13.40) and the IoT Summit in San Francisco (Wednesday 19 April @ 16.30).