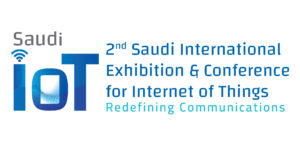 Saudi IoT is a flagship event of the Kingdom of Saudi Arabia aiming at "Redefining Communications" in the region for the growth & development of technology.
The 2nd Saudi IoT Augments & pledges to open doors to newer concepts with an August approach enriching more business opportunities for locally establishing – budding companies by having an exposure to the International businesses to have their presence with tie-ups with local Saudi partners. An arena exclusive to bridge the gap between the International & National Technology players. The 3-day event aims to serve every individual on the run and every business providing the platform to virtually set on the journey to every corner of the world to reach out to people, businesses, places, and even globally. Saudi IoT aims to bring into the limelight the enormous potential of the internet revolution & the internet concepts. Saudi IoT coincides with the objective of the 2030 Vision, where internet technology is A Necessity and compliments the huge investments to simplify businesses in a smarter way which is an added value.
Saudi IoT Conference and Workshops will take place alongside the Saudi IoT Exhibition. This will bring decision makers and other IoT Visionaries and experts to shed light on the latest trends in the IoT. It will be a premier platform for sharing, discussing and witnessing cutting edge research in all areas of development for the Internet of Things and beyond. Saudi IoT 2019 Conference is the one & only authentic platform to discover how the world of IoT is redefined in the region, and how IoT is changing the everyday life & the digital journey of every organization. The "IoT Conference" will showcase insightful keynotes, case studies and breakout sessions focusing on smart solutions and tools, technologies and resources which will be beneficial in the Kingdom's transformation program 2020.
URL: www.saudiiot.com
Contact Details: Gazala Arshiya / 966 54 267 3330 / pr@saudiiot.com